Newsletter
The veterinarians and staff at the One Love Animal Hospital are pleased to provide you with an online newsletter. This fun and fact-filled newsletter is updated on a regular basis.
Included in the newsletter are articles pertaining to pet care, information on our animal hospital, as well as news on the latest trends and discoveries in veterinary medicine.
Please enjoy the newsletter!
Current Newsletter Topics
Say Thank You: World Veterinary Day is April 29
Saturday, April 29 is World Veterinary Day for 2017. Started by the World Veterinary Association, World Veterinary Day was started to honor veterinarians and spread awareness of the One Health Concept, which "recognizes that the health and well-being of animals, humans and the ecosystem are interconnected, and depend on effective and sustained collaboration between human and animal-focused disciplines."
But what does your veterinarian actually do?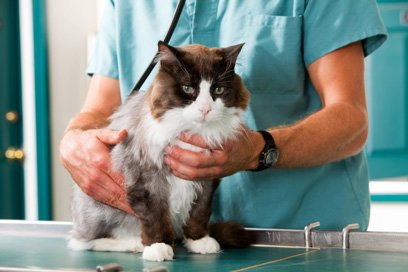 If you think veterinary medicine is about animals, you're only partially right. Animals don't call veterinarians. People call veterinarians. The vast range of people and places needing veterinary services include research laboratories, pharmaceutical companies, zoos, dairies, swine farms, public health departments, feed industry, livestock industry and pet owners. Veterinary medicine is a great field because it encompasses so many different areas.
Most people don't realize how closely human medicine is linked to veterinary medicine. Lifesaving medical advances, in areas from vaccine development to heart surgery, could not have been made without the use of research animals. People may also be unaware of the public services that involve veterinarians. Government agencies from the FDA to state health departments rely on veterinarians to track rabies, foodborne illnesses and diseases transmitted from animals to people.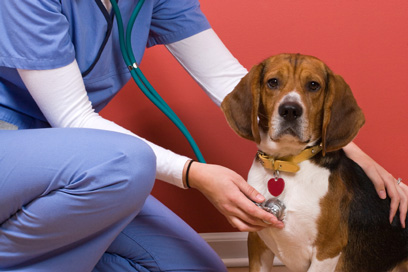 Of course, there are many benefits to working closely with animals. One of the pleasures of being a veterinarian is that people who own animals love their animals, whether the animals are horses, pigs, iguanas or puppies. You are generally dealing with people with empathy who like what they are doing. They recognize that what is best for the animal is also usually best for them.
For more information about World Veterinary Day, check out the World Veterinary Association's website.
Earth Day: How to Make Your Dog More Green
Let's face it: Dogs have big carbon pawprints, as we all do. Because they are largely carnivorous, their toll on the environment is nearly as large as that of a human, but there are ways to create a more environmentally sustainable pooch.
What is a Carbon Pawprint?
A carbon footprint is the amount of carbon dioxide we put into the atmosphere just by living our daily lives. Environmental groups have been watching the rising amount of carbon dioxide, methane and other greenhouse gases in our atmosphere and urging everyone to cut back where they can. The biggest emitters of CO2 are automobiles, factories and coal-fired power plants. But even the family dog creates its share of harmful greenhouse gases. Some report that the dog is as big an emitter as the family SUV.
The Carnivorous Diet
Your dog's meat-loving diet is the biggest factor in his carbon emissions. Beef cows emit methane, an even more dangerous greenhouse gas than carbon dioxide. Even chickens and lambs are not raised in an eco-friendly way, and those heavy bags of dry food and cans of meaty foods have to travel a very long way to get to your door.
The solution? Make your own dog food using locally grown or organic vegetables and vegetable proteins. Your veterinarian can help you determine the exact mix of carbohydrate, protein and fat to keep the dog happy and healthy, and can suggest vitamins and minerals that should be included.
Consider how much healthier homemade meals can be for your dog, especially considering the recent recalls of commercial pet food. Toxins and salmonella introduced in the manufacturing process poisoned and sickened many pets. Your homemade dog food also won't have chemicals and preservatives.
If this seems too complicated, consider buying smaller packages of locally made dog food, or you can switch to meat sources other than beef, which have less impact on the environment.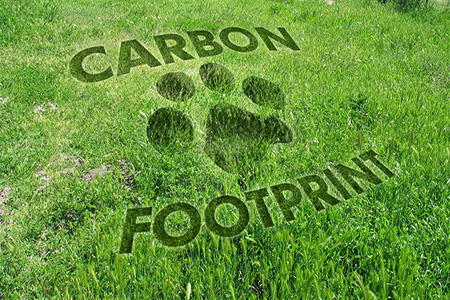 Other Environmental Impacts
When buying pet products, look for eco-friendly brands that limit the amount of harmful chemicals that will eventually enter the air or water. Dog shampoos often contain environmental pollutants such as sodium lauryl sulfate. Read labels. If you are buying dog toys, avoid plastic and synthetic products and look for recycled and recyclable goods. There are many available products made from natural fibers such as organic cotton or hemp. Dogs love cotton stuffed animal toys they can toss around, but make sure they are tough enough not to break apart.
Safe Flea and Tick Treatments
The Natural Resources Defense Council (NRDC) recently published a warning about flea control products. Their research suggests that some products pose a risk of cancer for children. If you have young children in the household, ask your vet about safe handling instructions for your pest products. You may wish to consider some alternate products available from your veterinarian. You can also read the NRDC's list of safer flea control products.
Pooper Scoopers
When walking your dog in a city park or along suburban sidewalks, most dog owners know to pick up after their dogs. Not scooping the poop is irresponsible. If you leave dog droppings, the bacteria can contaminate nearby water reservoirs and wells. If you are picking up after your dog, shop for biodegradable plastic bags.
Control Pet Populations
Overpopulation of dogs, and a surplus of unwanted dogs, is not a healthy situation for the planet. Spaying and neutering your dog is the eco-conscious thing to do. An unwanted litter of puppies creates a huge environmental impact, as much as a fleet of SUVs. Consider visiting a shelter or rescue organization when it comes time to add a dog to your family.
Small steps such as these can make a difference, especially when practices become widespread. You don't have to give up the dog to be environmentally responsible. If we all do our part, we can make pet ownership sustainable.
Allergy Testing in Pets
The goal of allergy testing is to identify the specific allergen(s) to which your pet has an allergy. Allergy testing is done either with a blood test (sometimes also called 'ELISA' or 'RAST testing') or with intradermal testing (sometimes also called 'skin testing'). Following the identification of the allergen(s), your pet usually begins a series of injections of a dilute solution of the allergens, with the idea of desensitizing his or her immune system to future allergen exposure. This is called immunotherapy. The exact schedule of injections is tailored to each individual case, but often begins as a once a week injection. The injections are usually carried out over the course of several months to years, and most patients require the injections for life.
Skin problems (particularly itching) and ear problems are two of the most common reasons why veterinarians see pets. Unlike humans who react to allergens with nasal symptoms, dogs react with skin conditions. These problems may range from poor coat texture or length, to itching and chewing, to hot spots and eventually self-mutilation. Allergies may also play a part in chronic ear infections. To make matters more difficult to diagnose and treat, thyroid disease may add to the problem as well.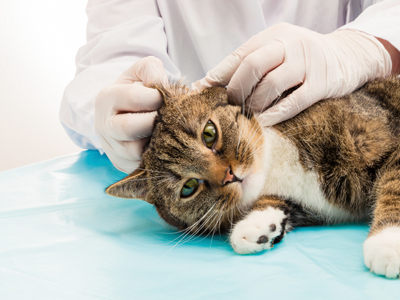 Many times, severe skin itching and inflammation is caused by allergies to fleas, foods or environmental substances. If we can determine exactly what your pet is allergic to, it will allow us to provide more effective treatment. For pollen and dust allergies, it allows for the possibility of treatment with allergy shots (also called immunotherapy or hypo sensitization), which help to decrease the immune system's exaggerated response to these substances. Knowing exactly what the allergies are may also allow you to avoid things to which your pet is very sensitive to, such as fleas.
There are basically two types of allergy tests performed by veterinarians. The goal of allergy testing is to identify specific substances that are causing the allergic reaction, so that avoidance (if possible) and/or desensitization through allergy shots may be attempted.
As mentioned previously, allergy testing is done either by blood testing or by intradermal skin testing. The intradermal test involves clipping the fur from the side of the animal's chest and injecting very small amounts of pollen from trees and grasses, molds and insect extracts, into the superficial layers of the skin. Often, the test is administered under a light sedative/analgesic so that the pet feels no discomfort. If the animal is allergic, a hive-shaped mound forms at the site of one or more injections. This type of testing is more traditional, more involved and more expensive than blood testing, but has very few false positive reactions.
For the blood test, a small amount of blood is taken and sent to a special laboratory. Generally, the test results come back in about three weeks. This type of testing is newer and less expensive however, interpretation is more difficult. Although serum allergy testing can give meaningful results, intradermal skin testing is considered to be more accurate and is the preferred method of allergy testing.
If you have questions regarding your pet's skin problem or potential allergies, do not hesitate to call your veterinarian for more information.
Preparing For Your New Kitten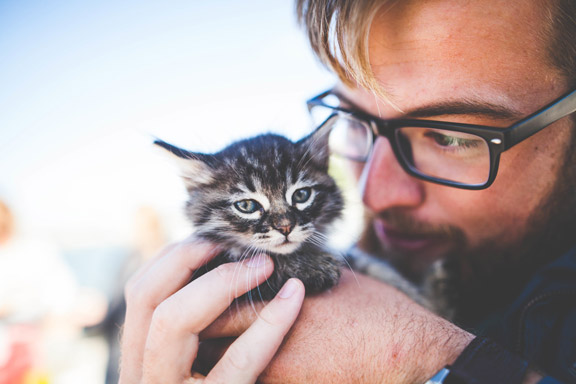 You will need to have the following items on hand before bringing home your new kitten:
A litterbox that is the right size for the age of the kitten. Avoid boxes that are too deep and thus might be difficult for your new kitten to climb into.
Litter for the litterbox - you may be surprised at how picky some kittens can be. Some cats prefer the very fine grain litter and some prefer the coarser types. Don't give up if your kitten does not seem pleased at first. Most kittens will definitely let you know when you have hit upon the right mixture. The breeder can let you know what the kitten is used to.
Scratching Posts (or some type of cat furniture) - They are invaluable in training your kitten to avoid harming your furniture. Scratching their claws is a healthy, natural instinct for cats, and providing them with the right place to do that will keep you and your kitten happy. Be aware that some cats prefer rough surfaces like sisal rope white others go crazy for plain old carpet (the kind on your floor, if you don't have a scratching post!).
Grooming Tools suitable for the breed of your kitten - A brush and comb are indispensable for a long-haired kitten/cat, or a flea comb or special brush for short-haired cats. You'll also need clippers for their nails (human nail clippers are not recommended). Purchase clippers made especially for cats. These can be found in most quality pet stores. Trimming the nails is an important part of feline grooming. We also recommend discussing teeth brushing with your veterinarian. This requires a special toothbrush and toothpaste.
Food and Water Bowls - Believe it or not, there is a difference even in the type of food and water bowls you provide for your kitten. Certain types of plastic, wood and even some types of ceramic bowls may contain tiny cracks that can harbor potentially harmful bacteria. Most professionals recommend using glass and stainless steel food and water bowls. These bowls should be cleaned regularly (the dishwasher is great). Make sure the bowls are not too high for your kitten to reach.
TOYS, TOYS, TOYS - Just as human babies love to play, so do kittens. It is their survival instinct and throughout their lives, kittens and cats emulate hunting in their play. Providing them with suitable toys helps to ensure they fulfill this need. You will need to be very selective in the type of toys as kittens do love to chew and nibble. Avoid purchasing toys with small strings or beads that can be swallowed easily. Toys don't have to be expensive to be appreciated by kittens and cats.
Cat Carrier (Pet Taxi) - You'll need to have a carrier for safely traveling with your kitten, as well as trips to the vet. There is also a new "Pet Seat" available, which secures your kitten/cat (up to 30 pounds) in your car, allowing for more interaction between you and your kitty.
Food - Check with the breeder or veterinarian to be sure you have the proper food on hand. Changes in diet and water, even litter and environment, can cause minor diarrhea and other problems. It doesn't hurt to pick up a few bottles of Pedialyte liquid to keep in the cupboard in case of diarrhea and/or dehydration.
Bedding - A nice cozy bed is a great idea for the new member of the family. Your kitten will soon know that this is her/his special place. Choose a bed that is well constructed and one that is machine washable.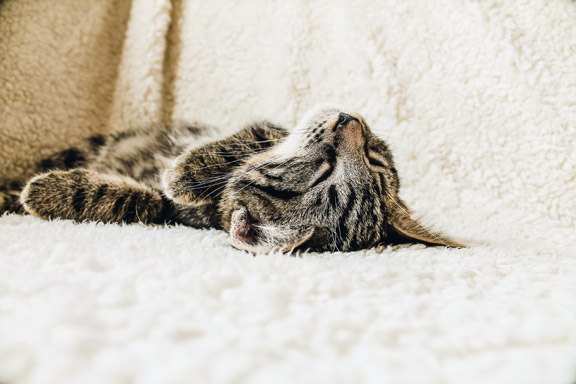 7 Reasons Why Dogs Bark
We've identified seven general reasons for barking. Each generates a different kind of bark with a unique sound.
1. Barking to induce play—Dogs will stop barking as the play proceeds. If you do not play with the dog, he or she will eventually give up and stop barking.
2. Barking to discipline young—This bark generally does not persist, as one or two warnings usually stops younger animals in their tracks.
3. Barking to warn off danger—This is a deep, repeated bark. The barking will generally persist until the source of danger is removed or until the dog is able to retreat to a position of safety.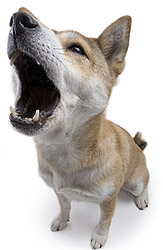 4. Barking to threaten intruders—To stop such a bark, you must either remove the intruder or remove the dog from the situation. Sometimes, stepping to the dog's side and assuring it that all is well will help reduce their fear of danger and stop the barking.
5. Curiosity barking—In general, this bark is displayed when there is some activity near a dog, but in such a place where the animal cannot have a good look. To stop the barking, all you have to do is let the dog see what it is curious about.
6. Barking for companionship—This is an incessant, repetitive bark, accompanied by a relatively motionless tail and concentration toward the area most associated with the dog's owners. The solution to this type of bark is to spend more time with the dog. This bark is often displayed by dogs who are ignored, tied out alone or locked up alone.
7. Barking for reward—Dogs can be inadvertently trained to bark and will persist with remarkable determination. Barking can become associated with almost any activity that leads to reward. For instance, a dog that barks at garbage trucks because they intrude within its territory will learn that persistent barking leads to the disappearance of the trucks. This rewards the barking behavior and thus a cycle is begun that is difficult to break. To stop this behavior, it is necessary to interrupt the natural system of reward.